Building Excellent Computer Science Programs Across Utah
Teach quality computer science to positively impact the next generation in Utah.
Did You Know?
Utah has K-12 computer science standards

Utah does not require high schools to offer computer science

CodeHS courses are aligned to Utah computer science standards

CodeHS curriculum is free
Utah Computer Science Stats
---
Approximately 5,000 computing jobs are open in Utah and this number is rapidly growing
Computer programmers and software developers in Utah have an average salary of $81,000, which is almost double the average state salary
In 2018, only 16% of high schools in Utah offered an AP computer science course in 2018
Out of 184,000 high school students in Utah, only 376 students took an AP computer science exam

Only 6 new teachers graduated from Utah universities prepared to teach these subjects
Sources: College Board, Code.org, Bureau of Labor Statistics
Utah Computer Science Pathway
CodeHS courses align with Utah middle school and high school computer science standards for a robust grade 6-12 pathway.
6th
7th
8th
9th
10th
11th
12th
Intro to Programming with Karel the Dog (Ace)
Intro to Python with Tracy
Introduction to the Internet
World of Computing
Introduction to Cybersecurity (Caesar)
Web Design (Matisse)
Computing Ideas (Lovelace)
Creative Computing (HS)
Introduction to Computer Science in JavaScript (Golden)
Web Design (Picasso)
Introduction to Virtual Reality
Intro to Computer Science in Python 3
AP Computer Science Principles
Fundamentals of Cybersecurity
AP Computer Science A (Nitro)
Mobile Apps
We've Got Utah Standards Covered
CodeHS maps all of the standards from Utah to our courses, offering aligned and engaging curriculum in our 6-12 pathway.
Praxis Prep Course
This professional development course prepares teachers for the Praxis Computer Science Exam. The CodeHS Praxis Prep Course is 100% aligned to Utah state standards and covers all of the objectives designated for the exam.
Utah Policies & Resources
Utah has recently been called a "high-tech mecca," even rivaling Silicon Valley. However, the gap in computer science skills and open computing jobs is widening meaning the education system is not graduating enough qualified workers to fill these positions.
Utah lawmakers are slowly making changes to improve computer science education across the state. In 2016, the Senate Bill 93 passed providing funding for teachers to earn computer science certifications and in 2017, the Senate Bill 190 created a Computing Partnerships Grants program to develop K-16 computer science pathways.
Sources: Utah Department of Education, Code.org, Silicon Slopes Utah Newsroom
Explore Utah CS Funding & Grants
CodeHS Privacy Policy for Utah
CodeHS is a member of the Utah Student Data Privacy Consortium (SDPC).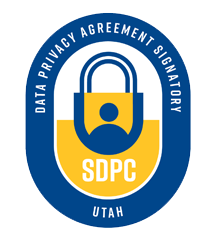 Explore our Privacy Center to learn more.
---